Today we have a great product in review and it uses the most trusted digital valve meter. We are talking about the ABC waters fleck 5600sxt water softener system. It's the most effective water softener as its features fleck 5600sxt digital valve. It's a whole house water softener with top technology and the results are really good. To ensure the soften and quality water for your home this water softener will be an ideal one.
ABC waters Built Fleck 5600sxt 48,000 Grain Water Softener comes with a mineral tank and a brine tank. Both the tanks are American made. The diameter of the mineral tank is 10 inches and the brine tank is 36 inches. The important thing is that both tanks have 10 years warranty. You will get 10% highly cross-linked resin. Resin is the substance to remove hardness from water. Highly cross-linked resin is much effective against chlorine. 10% cross-linked resin means it will last 2-3 years more than regular 8% cross-linked resin.
Specification Details of ABC waters Fleck 5600sxt Water Softener System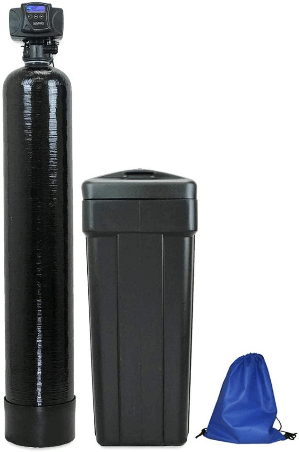 Capacity: 48000 grains
Flow rate: 12 GMP
Dimensions: 54x10x10 inches
Product weight: 133 pounds
Amounts of resin: 1.5 cubic feet
Warranty: 5 Years warranty on control head and 10 years on both tanks
Household Sizes: 4/5 peoples
Certification: WQA certified
ABC waters fleck water softener system: Why It Is The Best?
Why do people want to buy ABC waters fleck 5600sxt water softener? Let's know why ABC waters fleck 5600sxt water softener is the best-
i. Smart Regeneration System
Regeneration is the most important part of the water softening process. Through this process, the water softeners get ready to soften water again. This process varies in different water softeners. But ABC waters fleck 5600sxt water softener system features smart regeneration system. This water softening system can adjust the settings by tracking the water usage and regenerates automatically when it needs. 
ii. Dual Tank Models Available
ABCwaters produces some excellent dual tank water softeners. If there are two tanks, it is possible to utilize maximum efficiency without the extra load.
Dual tank system reduces the pressure on your softening system and extends the lifetime of it.
iii. Digital Meter with Display
This water softener comes with a digital display. You can check the current status of your system here. You can also track the consumption rate, regeneration time, and any error codes for troubleshooting.
iv. Excellent Water Flow Rate
The water flow rate of the fleck 5600sxt 48,000 grain is 12 GPM. It's enough for a small or medium family. This excellent water flow rate also prevents scale formation inside the pipes or on the fixtures and faucets.
v. Carbon Filtration System
vi. Economically & Environmentally Friendly
ABC waters fleck 5600sxt water softeners are also economically and environmentally friendly. Fleck 5600sxt doesn't need backwashing after regeneration. No backwash means no electricity and no waste of water softener salt.
Special Feature of ABC waters Fleck 5600sxt Water Softener
This water softener uses fleck 5600sxt digital valve and today it's the best meter on the market. Don't worry about the quality of this softener system. You are going to get a superb water softener with the latest digital meter.
What's the specialty of this digital meter? Fleck 5600sxt digital meter measures the actual use of water and regenerates when it needs. You can adjust the capacity by using fleck 5600sxt digital control head. Fleck 5600 manual regeneration system is also easy. You can also do the fleck 5600sxt programming by following instructions or online videos.
Including Equipment of the Water Softener Setup
Fleck water softener comes with all the necessary equipment. You will get some extra accessories like test stripe, sanitizer packet, 3/8-inch connector tube with this package. You will also get an installation guide along with other main equipment which is simple to follow.
What can ABC Water Softener Remove?
Water hardness
is a major problem in the USA. Excessive minerals in water can cause different types of problems. It has also
effects on our hair and skin
. To solve these problems we need an effective water softener system. This water softener is very excellent to remove hard water minerals. It also removes or reduces some other particles from your water. Let's take a look.
Removes Hard minerals from Water
ABC waters built fleck water softener is excellent in removing hard water minerals like calcium and magnesium. This water softener uses ion-exchange process to soften hard water. The main motto of using a softener is to soften water and this system is quite capable to do this. Heavy presence of calcium and magnesium make water hard. Fleck 5600sxt water softener can give you soften water by removing these minerals.
ABC waters Fleck Removes Iron
It's a high-quality water softener for residential use. Most of the water softener doesn't remove iron from water. But Fleck 5600sxt water softener can remove iron up to 2ppm from water. We know the negative effects of iron in plumbing water.
Iron is an essential mineral but excessive iron in drinking water causes
different health problems
. Iron often carries bacteria with it and survives them. Iron overload also can cause
hemochromatosis
, which can lead to liver and pancreatic damage. The primary symptoms of this disease are fatigue, weight loss, and joint pain. Water with excessive iron will leave soap scum residue not only in the bathtub but also on your skin. This residue can clog the pores of your skin and it leads to skin problems like acne and eczema. Water with iron has a metallic taste and it makes the drinks unpleasant. It also makes food blacken and bad taste
Water with high levels of iron builds up residue inside the pipes. This residue can clog your plumbing pipes, sinks and reduce water pressure. ABC waters built fleck 5600sxt water softener can solve these problems we have mentioned above by removing iron from water. But if your home water contains more than 2 ppm iron, you should choose the best water softeners to remove iron from it.
ABC waters Fleck 5600sxt Water Softener System Removes sulfur
ABC waters fleck water softener system can also remove sulfur from water. If you have well water then you may experience the bad smell of rotten eggs from your water. This smell indicates the presence of the high level of sulfur. We know that pure drinking water has no color, odor or taste. Different types of soluble minerals and contaminants give it odor or flavor. Normally sulfur is not a health hazard for humans but high levels of sulfur in drinking water can cause diarrhea. Like calcium, magnesium and many other minerals, sulfur can leave stains in plumbing fixtures, sinks and on cloths.
ABCwaters fleck 5600sxt water softener can help you by removing these elements from your home water.
Remove Chlorine from Water
Fleck 5600sxt Installation
This water softener is easy to install. The system provides all necessary installation kits such as silicon tube, a sanitizer packet, a 3/8 inch brine tube, and of course an installation guide by ABC waters technicians. You can install it by following the ABC waters softener manual. You can also call the technical support team to install your water softener.
Uses top-class fleck 5600sxt meter-based valve
Durable mineral and brine tank
Both tanks provide 10 years warranty
Much better 10% cross-linked resin compared to the usual 8% resin
Provides maximum installation kit
Great softening power – can completely remove calcium and magnesium
Countdown system on used and remaining gallons
Excellent customer support
Costly – Get ready to pay much for it
Missing 2 drain lines and you need to be purchased separately
Remove a little amount of iron
Abc waters fleck 5600sxt 48000 grain water softener is great though it has some negative sides. If you have enough budgets then it is perfect for you. This softener uses sodium chloride brine to soften water and release a little amount of sodium in softened water. It's not a big issue. But if you want to remove sodium from softened water then you can use a reverse osmosis system. You can also buy a salt-free water softener. 
If you have any questions about this water softener then comments bellow. Thanks to stay with us.